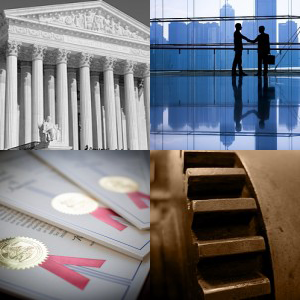 As an Intellectual Property and Business Law firm, Rhema Law Group offers a wide range of transactional and litigation services to clients nationwide.
A majority of our attorneys posses a decade or more in their chosen fields. Our Registered Patent Attorneys have advanced and/or technical degrees and our litigation/trial lawyers have won multiple jury trials in both Federal and State Courts, as well as winning adversarial proceedings before the United States Patent & Trademark Office (e.g. patent reexaminations, trademark oppositions/cancellations).
Our seasoned experience allows us to represent some of the top brands in the nation but our personal boutique approach allows us to also serve individual and small business interests as well.
Intellectual Property: In 2014, we were named one of the top patent & trademark firms by IP TODAY Magazine. Here is an overview of the Intellectual Property services we provide:
Patents –

We offer a wide range of patent services, including patent drafting and registration, patent litigation, patent licensing, patent infringement, patent searches, international patent protection and patent reexaminations.
Trademarks –

We provide a robust amount of trademark services including trademark prosecution and registration, trademark litigation, trademark infringement; trademark licensing, trademark searching,

international trademark protection, trademark opposition and cancellation, brand consulting and counseling.
Copyrights–

We offer a full range of copyright services including, copyright registrations, copyright infringement and litigation and copyright licensing.
Litigation– Our litigators and trial lawyers have won jury verdicts in both Federal and State Courts involving matters related to intellectual property infringement, business related disputes (e.g. breach of contract, fraud, shareholder disputes, ponzi schemes and product liability). Aside from our courtroom success, we have settled numerous other lawsuits on terms favorable to our client as result of our trial preparation and litigation experience.
Corporate Law– Because of our talented corporate lawyers, we serve as outside general counsel to a host of businesses and corporations in need of corporate formation, corporate due diligence, contracts & agreements, mergers & acquisitions, and shareholder disputes.
Securities Law– Our experienced securities lawyers counsel private and public held companies in a variety of corporate finance transactions, including, reporting and compliance requirements, due diligence, private placements of securities, reverse mergers, IPO's, PIPE (Private Investment in Public Entities), secondary offerings, equity compensation plans and asset based lending.